Products
\ Positive Wildcard SSL Certificates
Contact Sales
Telephone
Tel: +1 (888) 266-6361
Tel: +1 (703) 581-6361

Supported Browsers: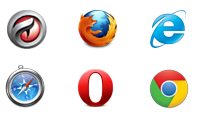 Secure multiple subdomains with one certificate
Domain validated certificate
2048 bit Industry Standard SSL Certificate
Trusted by all popular Browsers
99.9% Browser Compatibility
128/256 bit encryption
30 day Refund Policy
$10,000 relying party warranty
Email and web support
Starting at only P.O.A. per year
Unlimited Re-Issuance Policy
Unlimited server licenses

Secure unlimited subdomains over multiple servers on a single Positive SSL Wildcard certificate, the most cost effective solution for securing all your subdomains. Save yourself the time of managing multiple SSL Certificates and streamline the process with a Positive SSL Wildcard Certificate that will secure all of your subdomains under a single manageable SSL certificate.