Products
\ Positive Wildcard SSL Certificates
Contact Sales
Telephone
Tel: +1 (888) 266-6361
Tel: +1 (703) 581-6361

Supported Browsers: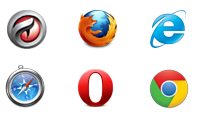 Secure multiple subdomains with one certificate
Domain validated certificate
2048 bit Industry Standard SSL Certificate
Trusted by all popular Browsers
99.9% Browser Compatibility
128/256 bit encryption
30 day Refund Policy
$10,000 relying party warranty
Email and web support
Starting at only P.O.A. per year
Unlimited Re-Issuance Policy
Unlimited server licenses

Secure unlimited subdomains over multiple servers on a single Positive SSL Wildcard certificate, the most cost effective solution for securing all your subdomains. Save yourself the time of managing multiple SSL Certificates and streamline the process with a Positive SSL Wildcard Certificate that will secure all of your subdomains under a single manageable SSL certificate.
Buy Positive Wildcard SSL:
ChicagoNetTech
05/20/2015
Great Produce, Great Price
During the past 25 years, we've spent thousands of dollars on SSL certificates. Having multiple sites under the same domain, on multiple servers, was always a thorn in our financial side because that meant needing to purchase those certificates individually: Five sites, five times the cost of an individual certificate. Now, with the Commodo Positive SSL Wildcard certificate, we get to use the same certificate, on any site with our domain name in it, on as many servers as we want to. This saves us hundreds of dollars per year and helps free up financial resources so we can keep our prices just a little bit lower for our customers. Great products, great customer service, and incredible savings. Thanks, Comodo!