Home »
Secure Email Digital Certificate FAQ
Contact Sales
Telephone
Tel: +1 (888) 266-6361
Tel: +1 (703) 581-6361

Supported Browsers: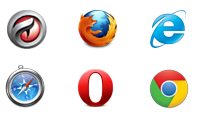 After enrolling for your Secure Email Certificate, you will receive an email from Comodo Security Services containing a button. Follow the instructions within the email and click the button named "Collect & Install Certificate".
Your Certificates will then be automatically placed into the Certificate store on your computer.
Select your email software from the below list for help configuring and using your Secure Email Certificate:
Secure Email Certificates FAQ
In Outlook Express 6, I have installed my Digital Certificate but it is not listed when I come to assign it to the account I have set up, why is this?
If the email address in the certificate does not identically match the email address you set up in the account, then a certificate will not be available.
You can only assign a certificate which matches the account email address exactly. Therefore, when you apply for your
digital email certificate, be sure to specify the email address exactly as it is set up in the account