Products /
What we have done so you can Establish Trust™ with us.
Contact Sales
Telephone
Tel: +1 (888) 266-6361
Tel: +1 (703) 581-6361

Supported Browsers: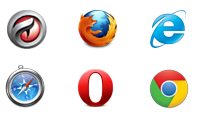 It is essential for us to earn your confidence and trust; we have therefore invested significantly to be able to do this. We have been verified and validated by Comodo, the second largest High Assurance Certification Authority in the world. Comodo, as a fully Web Trust compliant organization, have had their business practices and processes rigorously audited to AICPA (American Institute of Certified Public Accountants) guidelines by an independent, approved auditor, KPMG.
The legitimacy of our business, the ownership of this domain and the ability for us to display a selection of third party logos on our site has been fully validated by Comodo. Only then were we issued with Content Verification Certificates (CVCs) for this web site.
Those certificates are unique and can only be displayed on our web site. As they cannot be moved, copied or used on any other web site, you can verify and trust what you see on our web site.
Only trusted elements are visible during the Verification phase

How to use Vengine™

Once installed, simply click on the 'Verify Logos' option from the task tray and for a few seconds only Trusted logo's Trademarks and brands will be displayed on your screen. In this way Verification Engine delivers:-

Anti-Phishing Protection
Anti-Fraud Protection
Confidence and Trust

The plug-in is completely free and IE users are also provided with other key security benefits including:-
ToolBarProtect™ to secure and protect third party toolbars. Mouse over any toolbar or status bar and a secure browser independent border appears around your screen - No more false toolbars, address bars and status bars.
SSLVerify™ which fully tests and verifies that a secure SSL (Secure Socket Layer) connection is running and differentiates between High and Low assurance SSL certificates, essential for trusted e-commerce.