Home
» Install SSL Certificate
Contact Sales
Telephone
Tel: +1 (888) 266-6361
Tel: +1 (703) 581-6361

Supported Browsers: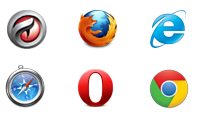 Installing your Certificate
The final part of your Positive SSL application is the installation of your certificate. Installation of your Positive SSL Certificate will differ greatly depending on your webserver software. Select your web server software from the list after reading the following general points:
General Points to remember:
You will receive 3 CA certificates from Positive SSL. However, if you did not receive the certificates, they can be downloaded below. Right-click on the files and choose 'Save Target As'.
Some of the web server software types require the certificates to be combined into a bundle file. This can be downloaded here:
Positive SSL Certificate are compatible with almost all web server software. If your webserver software does not appear on the list, please contact support@comodogroup.com with full details of your web server software and we will contact you with further instructions.
Server Software Type: