Home »
Buy UC SAN Certificate
Contact Sales
Telephone
Tel: +1 (888) 266-6361
Tel: +1 (703) 581-6361

Supported Browsers: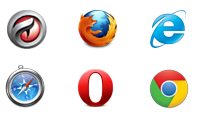 Comodo's UC Certificates / SAN Certificates are now available for only PRICE per year including
3 domains
Works with MS Exchange 2007 and Office Communications Server 2007
Provides SSL for multiple domain names, in a single certificate
Can re-issue the certificate, if necessary, for no fee

Comodo now offers Unified Communications Certificates to use with your Exchange 2007 Server or Office Communications Server 2007
Traditional SSL certificates provide security for a single fully-qualified domain name. Wildcard certificates can cover all first-level subdomains of a domain. Subject Alternative Name (SAN) control in UC Certificate facilitates hosting multiple SSL-enabled websites on a single server eliminating the hassles of configuring different IP addresses to different SSL certificates. Single Unified Communications Certificate / SAN Certificate can cover many different domains within a single certificate - that's less than $300 for a single certificate covering up to 3 domains ($35 per domain per year thereafter).
Key Features of UC Certificate
Provides SSL support for Exchange 2007 and Office Communications Server 2007 where traditional wildcard certificates won't!
Fully trusted by 99% of email clients and web browsers
Unlimited re-issuance - have the certificate re-issued for no fee; move/change domains if required
Backed by Comodo's world class support