Products /
Comodo's Certification Authority (CA) Credentials
Contact Sales
Telephone
Tel: +1 (888) 266-6361
Tel: +1 (703) 581-6361

Supported Browsers: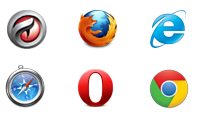 The growing use of the Internet for commerce, communication and collaboration has significantly increased the need for online security. Certification Authorities, who provide network, Internet and application security solutions for communicating and conducting business, are a key link in the Internet security chain. A Certification Authority acts as a trusted third party whose purpose is to securely sign certificates for network entities it has authenticated using secure means. Other network entities can then check the signature to verify that a CA has authenticated the bearer of a certificate.
CAs require highly evolved infrastructure and business processes to manage complex and variable environments including PKI services, root key management, validation processes, customer support, evolving security threats, database management and monitoring, user authentication and vulnerability identification and remedy. Further, these systems must support diverse stakeholder groups - consumers, enterprises, ISP's, browser providers and government agencies. Comodo as a CA represents a mission critical component with the Internet Trust engine and we are held to the highest security standards to maintain our CA status which is verified through regular KPMG audits.
A key component of a CA's operation is acceptance of a CAs certificates within browsers, e.g. Microsoft, Opera etc. This is enabled by Root Keys which browser providers incorporate into their operating system. Once a Root Key is a trusted Root Key - any digital certificates issued from that Root Key will be trusted as a legitimate.
A quick primer on root keys:
Root keys are incorporated into browsers so that certificates that are using these established and trusted root keys can provide assurance to users. Only the root keys of trusted CA.s or issuers are included in browsers.
Root keys not recognized by browser providers will generate a warning box from the browser providers.
When the Root Program was first introduced it contained only 16 roots representing seven US organizations.
Today, Comodo is the second largest owners of root keys, owning 10 root keys.