Products
\ SSL Certificates
Contact Sales
Telephone
Tel: +1 (888) 266-6361
Tel: +1 (703) 581-6361

Supported Browsers: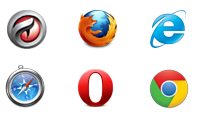 Full business validated certificate
2048 bit Industry Standard SSL Certificate
Unlimited server licenses
99.9% Browser Compatibility
$100,000 Warranty
30 day Refund Policy
US Toll Free telephone support
Email and web support
FREE Trustlogo worth P.O.A.
Starting at only P.O.A. per year
Unlimited Re-Issuance Policy
128/256 bit encryption

By upgrading to Instant SSL Pro, you will receive a FREE Trustlogo, normally worth P.O.A. and you will be able to take advantage of Unlimited US toll free telephone support.
All of this is in addition to everything you get with an Instant SSL certificate, and costs only P.O.A. for one year, or P.O.A. for two years