Home »
Wildcard SSL Certificate
Contact Sales
Telephone
Tel: +1 (888) 266-6361
Tel: +1 (703) 581-6361

Supported Browsers: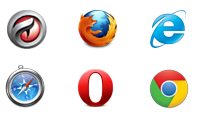 Secure multiple subdomains with one certificate
Domain validated certificate
2048 bit Industry Standard SSL Certificate
Trusted by all popular Browsers
99.9% Browser Compatibility
128/256 bit encryption
30 day Refund Policy
$10,000 relying party warranty
Email and web support
Starting at only P.O.A. per year
Unlimited Re-Issuance Policy

Select Your Certificate Term
Buy Positive Wildcard SSL:
128/256 bit SSL Certificates designed for encrypting websites with a low volume of online transactions. Trusted by over 99.9% of current Internet users, Positive SSL is the solution for new websites or environments where trust has been established and entity verification (for identity assurance) is not needed. A Positive SSL Certificate comes with a $10,000 warranty.
Speed of Issuance & Validation Levels:
Positive SSL provides domain validation with fast issuance and easy installation.
Price:
Starting at only P.O.A. per year, Positive SSL is one the most cost effective SSL Certificates available today. Positive SSL certificates can be purchased for up to 3 year terms.
Each certificate also comes with unlimited server licensing included in the price - meaning you are free to install it on as many physical servers as you wish.
Coverage:
Positive SSL is trusted by 99.9% of the current Internet population, a key factor in choosing an SSL provider. This is equivalent to more expensive Certificates from other Certificate Authorities.
Build customer confidence in your website
By displaying a Positive SSL seal on your site, you instantly inform your customers that you use 128/256 bit SSL encryption to protect confidential data, (e.g. credit card information) during online transactions.

Industry Leading Expert Support:
Comodo and Positive SSL have a well earned reputation as an industry leader in customer care and technical support. As a valued SSL customer, you can expect prompt support for any issues you may face or questions you may have during any stage of applying, installing or using your SSL Certificate.