Contact Sales
Telephone
Tel: +1 (888) 266-6361
Tel: +1 (703) 581-6361

Supported Browsers: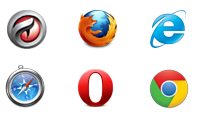 What is Multi Domain SSL
A Multi Domain SSL certificate saves you time and money by allowing you to secure up to 100 different domains on a single certificate. Issued by Comodo, the world's largest certificate authority, each Positive SSL MDC also comes with free 1 year PCI scanning, 1 year website vulnerability scanning, $10,000 warranty and a free site seal to instantly build trust into your website.
Reason to Buy MDC SSL From PositiveSSL
Save time and money by securing all your domains on one certificate
Secure up to 100 Fully Qualified Domain Names on a single certificate
Save money over the cost of individual SSL certificates or wildcards
Trusted by all major browsers and mobile devices
24/7 technical support, $10,000 relying party warranty
30 day, no question, refund policy
Multi Domain SSL Saves your Time and Money
The acquisition and management of multiple SSL certificates can be a cumbersome and expensive exercise. Wouldn't life be simpler if you could put all your domains on a single certificate that expired at the same time? A multi domain SSL certificate saves you time and money by allowing you to secure up to 100 fully-qualified domains on one, easy to manage, certificate.
For example, one multi domain SSL certificate can be used to secure:
mydomain.com
myotherdomain.com
mydomain.co.uk
mail.mydomain.com
*.mydomain.com
secure.mydomain.net
secure.mydomain.com
any-domain.any-tld
Are your requirements likely to grow or change after purchasing your certificate? No problem. You can add or replace domains on a multi domain SSL certificate at any time.
Product Details Speed of Issuance & Validation Levels:
Positive MDC SSL certificates can be issued within minutes of a successful application with our 100% online processing system. Instead of waiting days or weeks, your SSL certificate is generated almost immediately to provide you with a secure server in the fastest time possible.
Price:
With prices as low as P.A.O per domain, Positive MDC SSL certificates are a unique opportunity to simplify your certificate management processes while making huge overall savings.
Appreciation
Really great service.Second to none.
Just one Certificate !!
I was looking out to protect my website that had multiple domains.. While I was doing a research on this I found Multi Domain SSL Certificates from PositiveSSL.. I started using it and am happy about the product.
Brilliant!!
One certificate and that is it, my multi-domain website is all secured to perfection. Brilliant Security Solution.
Pliable to Support all Major Browsers
Great news to all of us.. one certificate for protecting multi-domains and above all it supports all major browser.. I must say I have found the right one to protect my business.
Affordable
I find it so economical.. Thanks to Comodo