Contact Sales
Telephone
Tel: +1 (888) 266-6361
Tel: +1 (703) 581-6361

Supported Browsers: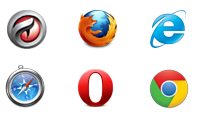 Try a 30-day Positive SSL Certificate for Free
Positive Free SSL Certificates are ideal for anyone requiring proof of ease of installation, confirmation of high quality technical support and also confirmation of compatibility with the majority of the browsers that exist today. The Free SSL Certificate is also ideal for practicing with certificates and learning about SSL implementation before committing to installing a certificate on your live system.
Trial Certificates provide full SSL functionality for 30 days and are fully supported by our expert technical support staff.
Why should I choose a Free SSL Certificate from Comodo?
Comodo is the No 1 SSL Certificate Authority in the world, commanding more than 36% market share.
While typical Free SSL Certificates are watered down versions of paid certificates, Comodo's Free Positive SSL certificates are full-functional 256-bit encryption certificates that are signed by the same 2048-bit root as its paid certificates, ensuring that they are fully trusted by all major browsers and devices.
Comodo's free Positive SSL Certificate is a Domain validated certificate for quick and easy security. It helps confirm the ease of installation, the full technical support, and browser ubiquity. This free SSL certificate helps test the security of your website before it goes alive.
Whether paid or free, Comodo issues certificates strictly in compliance with the Baseline Requirements as specified by the CA/Browser Forum.
Comodo provides the Positive SSL Certificate for Free for 30 days.
How to Get a Free SSL Certificate for your Website
Getting a Free SSL Certificate from Comodo can be done in two ways - using the 3-step process or the free Comodo certificate management utility. The free certificate management utility is available for Apache and IIS Users, and this simplifies the complete process of getting the certificate.
The 3-step process involves:
Creating your CSR (Certificate Signing Request)
Enrolling for your Certificate
Installing your Certificate
Generate a Certificate Signing Request (CSR). CSR generation depends on the software you use on your web server. Refer to the CSR help documentation for further details.
Next, enroll your certificate at the PositiveSSL Trial Certificate link by providing the CSR generated, and the server software used to generate the CSR.
The installation of your free Positive SSL Certificate depends on your webserver software. Refer to this Comodo Knowledgebase link which provides detailed instructions on the certificate installation process for different types of webservers.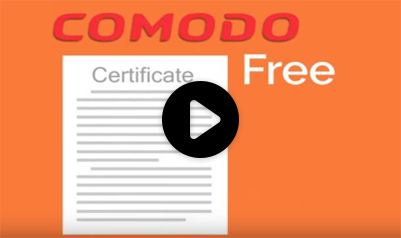 1
Create your CSR (Certificate
Signing Request) - need some help? CSR Generation
2
Enroll for your Certificate -
follow the below link
Patricia D. Clancy
07/03/2017
Impressed
Even for a free certificate I am impressed with their domain validation process.
Quick delivery and Easy installation
Comodo's online documentation makes ordering and installing this SSL certificate a breeze. I have purchased a 2-years cert after testing the free one. Thanks Comodo !
Thanks
That's great! Thank you so much