Contact Sales
Telephone
Tel: +1 (888) 266-6361
Tel: +1 (703) 581-6361

Supported Browsers: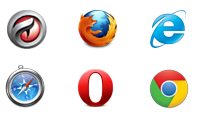 EV SSL Certificates (Extended Validation SSL Certificate) offer the highest degree of authentication and security for websites. EV SSL certificates require in-depth identity checks before issuance. Because of this extra validation, they uniquely show the name of the company that owns the website in the address bar of internet browsers.

Validation
1-7 days
Business
Validation

24/7
Dedicated support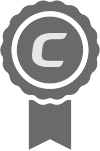 TrustLogo®
Site Seal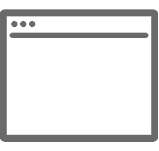 Green
Address Bar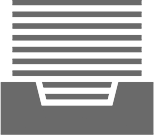 Can Secure
All Sub-Domains

Secures Multiple
Domains

$1,000,000
Warranty

Mobile
Friendly
Free unlimited
Server Licensing

Strongest SHA2
& ECC Encryption

Free
Reissues
S3 SSL Certificate Management Tool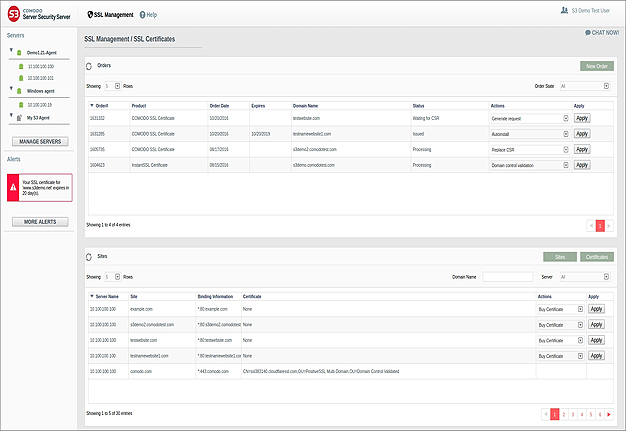 Certificate Discovery

Discover all certificates on your network, regardless of provider, to enable remote management of your entire certificate inventory.

Easy CSR Submission

Generate and submit a CSR, complete domain validation and automatically install your certificates in a few easy steps.

One Click Installation

SSL certificate management tool consolidates disparate processes of getting a certificate installed into a single, easy to use interface.

Renewal Reminders

Get reminders when certificates are due to expire and utilize a built-in chat feature which allows you to speak directly with support.
HackerGuardian PCI Scanning Service
| | | |
| --- | --- | --- |
| Features | FREE TRIAL | STANDARD |
| Maximum # of IP Addresses * | 3 | 5 |
| PCI Scans Per Quarter | 5 | 10 |
| ASV Scan Report Included | | |
| PCI DSS 3.2 SAQ | | |
Order additional IP address pack

Painless PCI

Run scans and get reports you need to submit for PCI compliance using the intuitive interface and quick setup wizards.

In depth reporting

Receive a comprehensive vulnerability report detailing any security issues identified by the scan with remediation advice.

Approved Scanning Vendor (ASV)

Perform vulnerability assessment scans backed by Comodo, a PCI Security Standard Council Approved Scanning Vendor.

Self-Assessment Questionnaire (SAQ)

Fill PCI Data Security Standard (DSS) 3.2 SAQ for merchants and service providers not required to submit a Report on Compliance (ROC).
HackerProof Website Vulnerability Scanning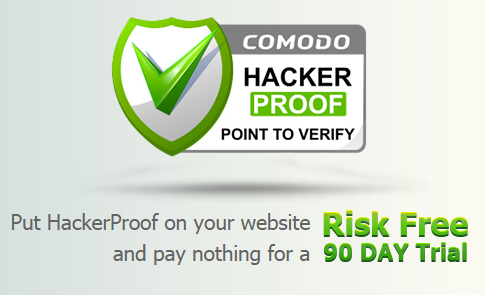 Daily vulnerability scanning

Identify security holes and ensure visitors that your website meets Comodo HackerProof® trust mark standards.

Next dimension scanning

Analyze your website's security from a visitor's point of view using a web-based management tool.

The Comodo name

Comodo is synonymous with trust and security to millions of consumers and businesses.

The best designed trustmark

Features exclusive technology to display a floating HackerProof TrustLogo® on the bottom right corner of your website.
EV SSL Certificate Benefits and Features
Green address bar provides immediate trust and helps customer conversion
Highest strength 2048-bit signatures with 256 bit encryption
Recognized by 99.9% of browsers and mobile devices
Free TrustLogo site seal
Unlimited server licenses
Priority phone support
$1,000,000 relying party warranty
30 day, no questions, money back guarantee
Because EV SSL certificates deliver the highest levels of trust, the green address bar is recognized by consumers as a hallmark of security used by only the best online retailers. Make sure your site enjoys the same degree of trust and security from just $99 per year.
EV SSL certificates were designed to strengthen e-commerce security, combat phishing attacks and to create the most complete SSL certificate available. Visual assurance helps e-commerce merchants increase trust, reduce shopping cart abandonment, and build long-term revenue.
What Does Extended Validation Look Like?
A website or web page that's secured with an EV SSL certificate will have a padlock in the address bar plus the name of the company/organization - all in green. This is the strongest indication possible to website visitors that the owner of the website is a business which can be trusted. Website visitors are more inclined to trust and complete transactions with a website which uses an EV certificate.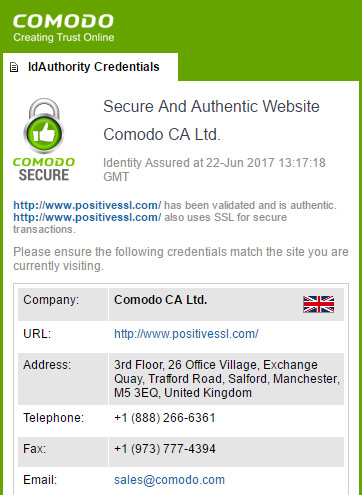 Why Choose Positive EV SSL?
Because you'll be getting the lowest priced EV SSL around from the world's most successful certificate authority. The green address bar instills a heightened sense of trust in your customers, reducing shopping card abandonment and improving conversion rates. Positive EV SSL certificates are recognized by 99.9% of browsers/mobile devices, so your customer will never see connection error messages. Apart from getting a first class certificate with first class support, each Positive EV SSL cert also comes with unlimited server licenses, a free site seal to instantly build trust into your website, $1,000,000 relying party warranty, 30 days money back guarantee, free S3 SSL certificate management tool, HackerGuardian Enterprise PCI scanning and HackerProof website vulnerability scanning.
Comodo Positive EV SSL certificate comes with the following benefits-
* PCI scanning and website vulnerability scanning limited to one license per-account for 90 days.
Businesses all over opt for Positive EV SSL certificate as it guarantees reduced shopping cart abandonment and increased conversion rates. It also protects customers from phishing attacks and makes EV SSL deployment easier with Comodo's new technology, the EV AUTO-Enhancer™ — Automatic Deployment and Maintenance Technology. This technology functions by automating the deployment and expanding the usability of EV SSL certificates for Windows XP users.
Benefits of EV SSL
Reduced shopping cart abandonment
Increased conversion rates
Ease of EV deployment by using our EV Enhancer technology
Protect your customers from phishing attacks
What a deal!
This offer saved us about 95% from what we would have paid with our old provider. Comodo validation was thorough but efficient and really easy. Faster issuance than most, and of course for the discount it was a win-win. Would absolutely recommend. Keep it up Comodo!