Contact Sales
Telephone
Tel: +1 (888) 266-6361
Tel: +1 (703) 581-6361

Supported Browsers: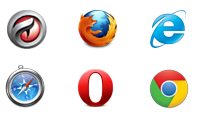 Comodo is a leading global provider of Identity and Trust Assurance services on the Internet, with over 700,000 customers worldwide. Headquartered in Clifton, NJ with global offices in the UK, Ukraine, Norway and India, the company offers businesses and consumers the intelligent security, authentication and assurance services necessary to ensure trust in online transactions. From providing certificates that put the trusted padlock on websites to patented technologies that lets internet users verify legitimate web content from faked content, Comodo empowers businesses and consumers to authenticate each other and protect their digital identities.
Why Comodo is the only SSL Provider to Partner with
The Lowest Priced SSL available - pass on cost-savings to improve competitiveness of your own product offerings and capture more customers.
Minimal buy price, Maximum potential - buy high quality, high assurance SSL certificates equivalent to VeriSign - but at a fraction of the price. Increase your competitiveness by providing the best in identity assurance at the most cost effective pricing offering available on the market today.
Easy upsell of customers - once customers trust - they will be more inclined to spend more with you - optimizing the revenue potential of each transaction.
No set up, no overhead, no hassle - Comodo operates the entire backend issuance process including validation - just set up your website offering and we'll do the rest.
Easy-to-use online management system - quickly and easily submit CSR's from your own management area for transparent provisioning of certificates to your customers.
No Monthly Commitments - pay-as-you-go system allows you to start selling certificates immediately.
And when you establish real trust between you and your customers - you can drive real revenue.
Let us show you how to drive money with your SSL Revenue Calculator
When you sign up with Comodo, you instantly expand your access to the newest and most effective tools to compete and win against those big, branded sites. Your customers will trust and you will be rewarded with more sales - again and again and again.