Home »
Code Signing Certificate
Contact Sales
Telephone
Tel: +1 (888) 266-6361
Tel: +1 (703) 581-6361

Supported Browsers: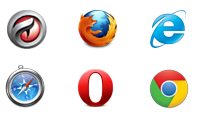 Fully Validated
$50,000 Warranty
Full Support for Microsoft Authenticode technology
Digitally sign 32-bit or 64-bit Portable Executables
.exe, .ocx, .dll, kernel mode sigining, .jar, Adobe AIR, .cab files
30 day Refund and Reissue Policy
Telephone email and web support
Express delivery
Starting at only P.O.A. per Certificate
Why do I need a Code Signing Certificate?
When customers buy software in a store, the source of that software is obvious. When downloaded over the Internet, that same software is not so easy to trust. Any publisher planning to distribute code or content over the Internet risks their product being modified, impersonated and re-hosted by malicious third parties.
Code signing certificates
immediately inform customers hat they can trust the software download by verifying code integrity and company legitimacy.
Select Your Certificate Term