Contact Sales
Telephone
Tel: +1 (888) 266-6361
Tel: +1 (703) 581-6361

Supported Browsers: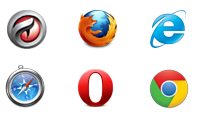 What is an SSL Certificate?


SSL certificates commonly known as SSL are data packets used to bind cryptographic key with the user's details. When the SSL certificate is installed on the server, the HTTPS Protocol is activated to establish secure connection between the web server and the web browser and vice versa. Any website that handles critical customer details and financial data, should secure the browsing data that passes to and from the server and the browser with SSL.
Recommended
Features
Positive SSL
Positive SSL Wildcard
Positive SSL EV
Positive SSL EV MDC

Secures

Single domain

Single domain and all sub-domains

Single domain with the highest possible levels of trust and security

Multiple domains. Add the green address bar to all your web-sites

Green Address Bar:

Validation Level

Domain validated

Domain validated

Full organization and domain validation

Full organization and domain validation

TrustLogo worth $119

Technical Support: e.g. Cert Installation guidance

Tel (US Toll Free), Email, Web

Tel (US Toll Free), Email, Web

Tel (US Toll Free), Email, Web

Tel (US Toll Free), Email, Web

Warranty
(More Info)

$10,000

$10,000

$1,000,000

$1,000,000

Encryption Level

128/256 bit

128/256 bit

128/256 bit

128/256 bit

Re-issuance Timeframe

Unlimited

Unlimited

Unlimited

Unlimited

30 day money back guarantee

Unlimited Server
Licenses

Recommended
Types of SSL Certificates?
Comodo delivers a range of SSL Certificates each of which are developed and destined to protect specific business needs.
Positive SSL
Positive SSL Wildcard
PositiveSSL EV
PositiveSSL Multidomain
What is Positive SSL?
When there is less volume of transactions involved to and from the website and when the website does not require an entity verification - Positive SSL can be the best solution in place. Positive SSL is developed to protect websites that involves minimum level of transactions with 128 bit encryption. Positive SSL assures 99.9% of the browser compatibility.
Positive SSL Wildcard
Positive SSL Wildcard is a domain validated Certificate. It is the right solution to encrypt websites with 128/256 bit encryption when there is a main domain that supports a number of multiple subdomains.
PositiveSSL EV
Positive EV SSL assures highest level of trust with the green address bar. It delivers highest strength of 2048-bit signatures with 256 bit encryption for complete e Commerce security and hence better conversion rates. Each certificate undergoes an intensive validation process. With Comodo EV SSL Certificate a site seal appears to build customer trust and to enhance conversion rates.
PositiveSSL Multi-Domain
PositiveSSL Multi-Domain certificate assures protection of upto 250 multiple domain names with one SSL Certificate with 256 Bit encryption strength.
Why Positive SSL?
Positive SSL Certificates deliver the highest levels of website security and are trusted by 99.9% of current Internet users – making our certificates as trusted as more expensive certificates from Symantec, GoDaddy and Geotrust