Support \
Email Certificates FAQ
Contact Sales
Telephone
Tel: +1 (888) 266-6361
Tel: +1 (703) 581-6361

Supported Browsers: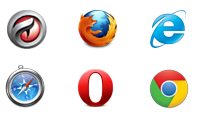 How do I back up my email certificate?
Start Internet Explorer, select Tools, Internet Options, Content, Certificates.
On the Personal Certificates tab, click on the certificate to export and Select Export.
Then follow the Export wizard.
When requested, select 'Yes, export the private key', and 'Include all certificates in the certification path, if possible'.
Type a password which you can remember later.
Then select the save location and give the file a name, but leave the 'Type' as 'Personal Information Exchange (*.pfx)'.
Once finished the file and associated private key is saved as a pfx file.
How do I install / import my certificate again if I have saved it as a Personal Information Exchange (*.pfx)?
Copy the pfx file to the machine where it will be installed, then double-click that file.
Follow the wizard and provide the password when requested.
Let the wizard automatically select the locations for the files to be imported .
I have installed my certificate but cannot assign it to my email address, what can cause this?
The most common reason for this is that the email address on the mail client is not the same as the one in the certificate.
For instance, in MS Outlook (not Express) if you configure the email address on the account to another@comodo.com but have the Email Certificate for another@comodogroup.com the software will not allow you to assign it as the email address is not the same.
When you ask MS Outlook to display a list of certificates to assign, the list will not show any email addresses that is not identical to that on the email account.
How do I send my email certificate to someone else so that they can encrypt emails they send to me?
When you first receive your Email Certificate, you will need to distribute the 'Public Key' to those people who you want to send encrypted emails to you.
To do this, send an email and digitally sign (Code Signing) it; this attaches the Public Key certificate to the email.
They must store your email address with the certificate in their address
After this, they can then decide to encrypt each email that is sent to you by setting the 'Security Options'.
Why can I not encrypt an email using my email certificate and send it to someone else?
You can only encrypt emails to someone else using their Email Certificate (public key).
To do this, the recipient's certificate must be stored in your address book.
Why can some people reply to my digitally signed emails and some not?
The ones that can reply will already have your certificate (public key) stored in their address book.