Home »
SSL Certificate Application Validation
Contact Sales
Telephone
Tel: +1 (888) 266-6361
Tel: +1 (703) 581-6361

Supported Browsers: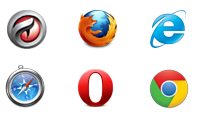 Your Application Validation
Before issuing a domain-only Positive SSL Certificate, Comodo CA must authenticate that the entity requesting the certificate is authorized to use the domain for which the certificate is being requested.
We can only issue a Web Server Certificate to an organization or individual that demonstrates control of the domain name in the request by responding to an email message sent to a domain administrator or by supplying documentation that verifies control of the domain.
In almost all cases, simply replying to the email which we send to that domain is enough to validate your Positive SSL certificate.
After generating your CSR, you will be taken to a web page to select an email address attached to your domain. We shall use this address to contact you in order to complete the application process.