Contact Sales
Telephone
Tel: +1 (888) 266-6361
Tel: +1 (703) 581-6361

Supported Browsers: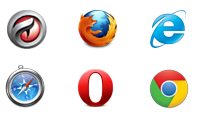 Prove the legitimacy of your credit card logos and your customers will trust you with their business.
With "Unspoofable" credit card Content Verification Certificates (CVC) your customers can instantly identify real credit cards from fake ones - with a simple roll of the mouse.
Credit Card logos are one of the most important trust indicators that consumers look for on an e-commerce site - but how do customers know that these logos are genuine and not fake copies?
CVC's for Credit Card Logos deliver an instant, highly visual assurance to website visitors that you are authorized to accept the credit cards on your site. As a certification authority, Comodo authenticates that you are approved by the card issuer and so your customer can rest assured that your credit card credentials are legitimate
- AND YOU CAN PROVE IT!
Customers verify the logo through a simple reader called VerificationEngine that they can download for free from your site. They then simply move their mouse over the logos and a bright green "authentication" border appears around the screen confirming that your logos have been fully validated by Comodo.
You can choose as many as you like based on your requirements using our 100% online provisioning system. Simply choose the logos you want and we'll deliver the final graphic with full CVC protection.
Try Verification Engine for yourself. Install the latest version, then check out the verified site logos of many large sites.