Products
\ Positive SSL Certificates
Contact Sales
Telephone
Tel: +1 (888) 266-6361
Tel: +1 (703) 581-6361

Supported Browsers: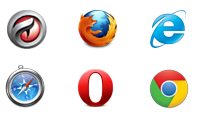 Domain validated certificate
2048 bit Industry Standard SSL Certificate
Trusted by all popular browsers
99.9% Browser Compatibility
128/256 bit encryption
30 day Refund Policy
$10,000 relying party warranty
Email and web support
Starting at only P.O.A. per year
Unlimited Re-Issuance Policy
Unlimited server licenses

Buy Positive SSL Certificates:
128 bit SSL Certificates are designed for encrypting web sites for low volume online transactions. Trusted by over 99.9% of current Internet users, Positive SSL is the solution for new websites or environments where trust has been established and entity verification (for identity assurance) is not needed. Positive SSL Certificate carry a $10,000 warranty.
Price:
Starting at only P.O.A. per year, Positive SSL is one the most cost effective SSL Certificates available today. Positive SSL certificates can be purchased for up to 3 year terms.
Each certificate also comes with unlimited server licensing included in the price - this means you are free to install it on as many physical servers as you wish.
Coverage:
Browser ubiquity is a key element when choosing an SSL provider. Positive SSL is trusted by 99.9% of the current Internet population. This is equivalent to more expensive Certificates from Thawte.

Build customer confidence in your website
By displaying a Positive SSL seal on your site, you instantly inform your customers that you use 128 bit SSL encryption to protect confidential data, (e.g. credit card information) during online transactions.
Industry Leading Expert Support:
Comodo, the company behind every SSL we sell, and we have a well earned reputation industry leading customer care and technical support. As a valued SSL customer, you can expect prompt support for any issues you may face or questions you may have during any stage of applying, installing or using your SSL Certificate.
Flawless Service
When I was trying to figure out on what went wrong while installing the Certificate. I managed to reach the Comodo Technical support team – They helped me with a issue and it was a quick fix indeed. Thanks to Comodo.
Must Try
Comodo SSL Certificate should be a must try in your list especially when you own a website that deals customer transactions. Perfect protection and improved business is all I can assure.
Versatile Browser Support
I am impressed with this "99.9% Browser Compatibility". It is definitely working great for me.
Highly Recommended
You can really count on Comodo SSL. I highly recommend it. Try it and you will see the difference.
Could see no better replacement
Comodo SSL has provided a range of benefits that I am not able to find any replacement for it.