Home
» Enterprise Platinum SSL Certificate
Contact Sales
Telephone
Tel: +1 (888) 266-6361
Tel: +1 (703) 581-6361

Supported Browsers: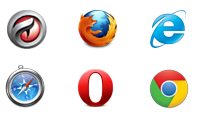 Full business validated certificate
2048 bit Industry Standard SSL Certificate
Unlimited server licenses
99.9% Browser Compatibility
$1million Warranty
128/256 bit encryption
Email and web support
30 day Refund Policy
Post-install health check
Free phone priority support
Dedicated account manager
FREE Trustlogo worth P.O.A.

Select Your Certificate Term
Buy Enterprise Platinum SSL:
128 bit SSL Certificates designed for securing intranets, extranets and websites. Recognized by 99.9% of current Internet users and with a free TrustLogo, Platinum SSL Certificates are an ideal way of securing your enterprise webserver and providing real time web identity assurance to your customers.
Validation Levels:
All Platinum SSL Certificates undergo a full two-factor validation of both domain name and company details before issuance, in order to provide the highest levels of security and trust for your customers.
Price:
Starting at only P.O.A. per year, Platinum SSL is the most cost-effective route into securing your enterprise, with a free TrustLogo providing a tangible indication to your customers of the security of your site through a unique real time web identity assurance seal.
Each certificate also comes with unlimited server licensing included in the price - meaning you are free to install it on as many physical servers as you wish.
Coverage:
Your browser Compatibility is a key element when choosing an SSL provider. Platinum SSL is inherently recognized by 99.9% of the current Internet population. This makes Platinum SSL as equally trusted as more expensive Certificates from Verisign and Thawte.
Industry Leading Expert Support:
Comodo is renowned for its industry leading customer care and technical support. As a valued enterprise SSL customer, you can expect a dedicated account manager and multi-channel priority technical support for any issues you may face or questions you may have during any stage of applying for, installing or using your Platinum SSL Certificate. In addition, you can benefit from a free post-installation health check on your SSL Certificate from our team of experts to ensure that your certificate is installed correctly.
Free TrustLogo worth P.O.A.:
Each Platinum SSL Certificate comes with a FREE TrustLogo worth P.O.A.. Providing your customers with real-time identity assurance through convenient "point to verify" technology, TrustLogo enhances trust and confidence in your online identity and gives customers the confidence to buy from your site.