Home
» Intranet SSL Certificate
Contact Sales
Telephone
Tel: +1 (888) 266-6361
Tel: +1 (703) 581-6361

Supported Browsers: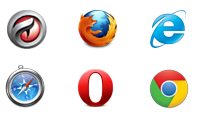 For Intranet use only
Instantly issued
2048 bit industry standard SSL Certificate
Trusted by all popular browsers
99.9% browser Compatibility
30 day refund policy
Unlimited server licenses
Unlimited Re-issuance Policy (until 11/01/2015)
Email and web support
Only Price
Select Your Certificate Term

Important Note
Any intranet certificate that you purchase will expire on November 1st 2015.
This is in compliance with the guidelines laid out by the CA /Browser forum which state CAs must not issue certificates containing an internal server name or reserved IP address with an expiry date later than Nov 1st 2015.
Comodo will continue to offer this product until early Q4 2015 so customers can accomplish any short term projects that may require a trusted intranet certificate.
Intranet SSL Certificates allow you to secure internal servers with SSL. Issued to either a Full Server Name or a Private IP Address, Intranet SSL Certificates are the most cost effective way of securing internal servers.
Speed of Issuance & Validation Levels:
Intranet SSL Certificates are issued immediately to a Full Server Name or a Private IP address.
Unlimited Server Licenses :
Each certificate also comes with unlimited server licensing included in the price - meaning you are free to install it on as many physical servers as you wish.
Coverage:
Intranet SSL is inherently trusted by 99.9% of browsers (IE 5.01+,Firefox 0.1+, Netscape 4+, Opera 5+) and will not require lengthy browser upgrades across your networks.
Industry Leading Expert Support:
Comodo, the company behind the Intranet SSL product range, is renowned for its industry leading customer care and technical support. As a valued SSL customer you can expect email support for any issues you may face or questions you may have during any stage of applying for, installing or using your SSL Certificate.