Contact Sales
Telephone
Tel: +1 (888) 266-6361
Tel: +1 (703) 581-6361

Supported Browsers: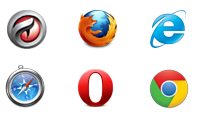 Full business validated certificate
2048 bit Industry Standard SSL Certificate
Trusted by all popular Browsers
99.9% Browser Compatibility
$50,000 relying party warranty
30 day Refund Policy
Unlimited server licenses
Email and web support
Starting at only P.O.A. per year
Unlimited Re-Issuance Policy
FREE Trustlogo worth P.O.A.

Select Your Certificate Term
Buy Instant SSL Certificate:
128 bit SSL Certificates designed for securing leading web sites, as well as intranets and extranets. Trusted by over 99.9% of current Internet users, Instant SSL is the professional solution to securing your webserver. Instant SSL Certificates carry a warranty of $10,000.
Speed of Issuance & Validation Levels:
Thanks to the revolutionary capabilities of IdAuthority, the identity assurance provider, Instant SSL involves a two step stringent validation process. The result is a highly trusted Certificate that does not undermine consumer confidence with the SSL protocol.
Price:
Starting at only P.O.A. per year, Instant SSL is one the most cost effective SSL Certificate available today with a warranty level to cover the needs of all professional websites. To help customers avoid the hassle of renewing every year, we also offer discounted 2 and 3 year Certificates.
Coverage:
Browser Compatibility is a key element when choosing an SSL Provider. Instant SSL is inherently trusted by 99.9% of the current Internet population. This makes Instant SSL as equally trusted as more expensive Certificates from Verisign and Thawte.
Industry Leading Expert Support:
Comodo, the company behind the Instant SSL product range, is renowned for its industry leading customer care and technical support. As a valued SSL customer, you can expect both telephone and email support for any issues you may face or questions you may have during any stage of applying for, installing or using your SSL Certificate.